Bombasta
•
Radio La Chusma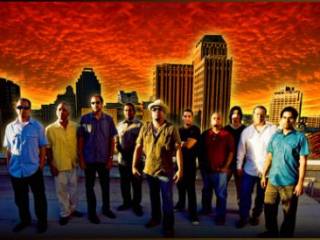 Event Summary

LIMITED SEATED SHOW WITHOUT RESERVED BOOTH EXPECT TO STAND. --

Urban Latino. Grassroot Politicos. Spanglish Mixologists. This is Bombasta.

..

Sparking an uprising where ever they travel, this post modern collective is the sound of their times, the sound of a generation who grew up on both Hip Hop and Cumbias, Rock Steady and Rancheras, Soul and Salsa. These are the new sounds from the street, the underground beats, horn lines out of a passing car, a call to resistance.

Originating out of the art warehouses and late night parties in the barrios of San Antonio in the summer of 2003, Bombasta quickly progressed to spreading their vision of positivity, liberation and good music throughout Texas. From the stage of some of the choicest venues in the area, to the streets at political marches, Bombasta crosses borders and speaks the truth as they see it- from the bottom looking up.

This collective mixes styles and instrumentations as effortlessly as their lyrics travel between Spanish and English, balancing the traditional with the innovative, developing their own unique sound that reaches far beyond the typical. Over the past few years Bombasta has forged a new musical path, taking various influences (Reggae, Cumbia, Hip Hop and Latino Funk) and created a new sound that can most easily be described as 'Bomba Stilo.'

This musical co-op brandishes a full horn-section along with accordion, samples, turntables, guitar and lots of rhythm. Bombasta has been hard at work touring the region and developing a large family of friends, fans and collaborators. With a strong mix of Spanglish politics and roots passion, Bombasta tackles various lyrical topics with sincerity and perspective, flowing with ease between synchopated rhymes and melodic anthems.

Bombasta has enjoyed helping various community activists in their struggle in both hometowns of San Antonio and Austin, Tejas by performing at numerous fundraisers, marches and community events. Joining in a movement towards envolvement and activism, Bombasta has continued to call for unity, organization and positivity- taking it from the streets to the stage.