Ian Moore and The Lossy Coils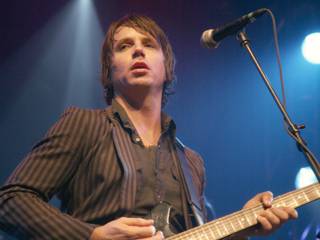 Event Summary

SEATED SHOW BUT SEATING NOT GUARANTEED WITHOUT RESERVED BOOTH. -- BOOTHS DO NOT INCLUDE ADMISSION.--

Ian entered the Austin music scene in the early 90's. With his high cheekbones, fetching head of hair, and velvety croon, Ian quickly became a pop pin-up, and Ian Moore shows often found hysterical teenage girls rushing the stage. In Houston, rowdy fans tipped over the band's car with the members inside, leaving them trapped upside-down for hours. Ian tried to escape to a cave hidden near Krause springs, hoping to study Gregorian chant and revel in the calm, only for fans to track him down and hammer on the cave door. At the time, Ian said: "I will starve to get something across, I mean that. I've never settled for second-best in my life. If it doesn't work, I'll give it all up." His words gained added poignancy when he attempted suicide in August, 1996, by turning on an electric stove; only to be foiled when fans outside his apartment alerted authorities. "Pressure wasn't the only reason," Ian told the Austin Chronicle, of the incident. "Nobody has the right reasons. [The truth is] I don't remember a thing." After a depressing descent into sell-out mediocrity in the mid 90's, Ian disappeared into oblivion. Surfacing roughly once every few years thereafter, he delivered musical explorations of his nightmarish imagination, each more terrifying and experimental than the last. Oh, it was amazing at first, he would recall, 15 years later, to The Stranger. "But a little goes a long way. I was not cut out for that world. I love pop music, but I didn't have the temperament for fame."