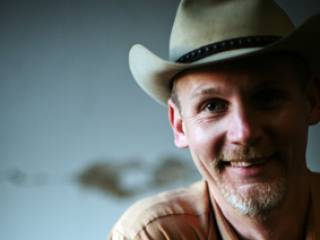 Event Summary

LIMITED SEATED SHOW WITHOUT RESERVED BOOTH EXPECT TO STAND. --

Texas based songwriter, Max Stalling, had no expectation of ever being in the music business. "I didn't even pick up a guitar until graduate school," notes Stalling. After attending high school in South Texas, Stalling studied at Texas A&M - College Station, where he earned a masters degree in Food Science. He followed the corporate road from there and eventually landed in Dallas working in product development for Frito-Lay.

During this time, Stalling discovered the Three Teardrops Tavern and Dallas community radio station KNON. These outlets exposed a musical heritage to which Stalling had been nearly oblivious. Inspired by artists like Townes Van Zandt, Robert Earl Keen, Guy Clark, Lyle Lovett, and Jerry Jeff Walker, Stalling started writing songs, recording albums, and eventually touring with a full band to back him. Fifty thousand CDs later, Stalling joined musical greats Kris Kristofferson, Michael Nesmith of the Monkees, Selena, Guy Clark and many others when he received a star on the South Texas Music Walk of Fame in Corpus Christi. Stalling plays about 150 shows a year and is in the third year of a Budweiser sponsorship. He is a former member of the Board of Governors for the Texas Chapter of NARAS and has been lucky enough to share the stage with most of the artists that inspired him to start writing in the first place.