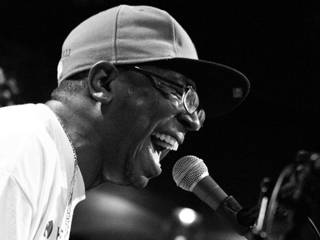 Event Summary

DUE TO AN UNFORESEEN EMERGENCY IN THE BAND THE NIGEL HALL SHOW HAS BEEN CANCELED. IF YOU PURCHASED A TICKET CONTACT FRONT GATE TICKETS AT 1-888-512-SHOW FOR A REFUND.

LIMITED SEATED SHOW WITHOUT RESERVED BOOTHS EXPECT TO STAND. -

Nigel Hall is an honest, humble guardian of soul music. When asked about himself, Nigel reflects, "I'm just someone who lives, eats, drinks music." This ethic becomes clear as soon as Nigel takes the stage. Whether he is leading his own band, performing solo, or, fronting bands like Soulive and Lettuce, he instantly commands the attention of the audience.

A Washington D.C. native, Nigel soaked in the sounds of Go-Go, funk and soul. His musical influences reach far beyond his years; from James Brown to Donny Hathaway. It only takes one song to see that Nigel is a talent who is here to stay. In 2011, Nigel became a full-time member of the Warren Haynes Band and toured Europe as a part of John Scofield's band. Nigel is currently recording his debut album with producers Eric Krasno and Adam Deitch for Royal Family Records.